Lewis Smith Lake Recap Story
Jesse and Jordan Wiggins Win ABT 100 Smith Lake
By Jason Duran
The third and final stop for the ABT 100 was on Lewis Smith Lake where 100 of the best teams in bass fishing competed for first place of $25,000 and a total payout of over $100,000 in this event. The points race for AOY was very tight with only 1 point separating first and second place. The spotted bass at Smith Lake love the cold weather and Mother Nature dished up a perfect week of practice and tournament day for this event. Teams were anxious and ready to get this event started. However, on tournament morning, the fog rolled in and delayed blast off for one hour. When the fog finally cleared, teams quickly went to work locating fish with the hope of catching enough to take home the first-place trophy.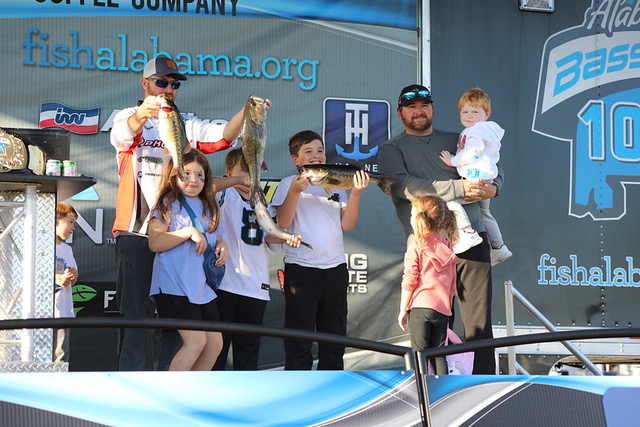 The team of Jesse and Jordan Wiggins spent the week at another event in Missouri and after making the long trip home, they arrived early Saturday morning just in time to rig some rods for this event. When asked how they prepared for this event Jesse said, "we have had about 34 years to prepare for this event; we have been on this lake every year since we were born, and we can't really remember when we started fishing it because we were so young. We used all the information we have gained fishing here and knew the areas to stay in to try and win the tournament." They fished the previous weekend at Smith Lake; "last week, we didn't have a single fish the first half of the day, and we knew not to go and do that again today. We started today in a different area and were able to catch a couple keepers, and then we made the run to the creek where we ended up catching them. We knew if it was going down in there today that would be where we could win the tournament. We used two main baits; the first was a top water walking bait, and the second was a Jackall Driftfry. Typically, we don't weigh any fish on the Driftfry, but we found this massive school of fish. We could see them on the forward-facing sonar, so we dropped the bait down to them. I would catch a 3-pounder, and Jordan would drop down and catch a 25-pound stripe. This happened back and forth a couple times, so it was pretty hectic there for about an hour. It was honestly more fish than I have ever seen, and it was all about being in that right area at the right time." Jesse and Jordan weighed in 17.50 pounds and collected the 25,000 ABT check and bonuses including $7,000 Phoenix Bonus.
The Second-place team of Chad and Chase Schroeder weighed in 15.35. They had a quick practice arriving about noon on Friday for their very first time on the lake. They practiced separately and caught a couple good largemouth up shallow and spent the rest of practice marking docks in the Brushy Creek area. Their home lake is the Alabama River, so they are used to fishing stained water which is much different than the clear water of Smith Lake. They started on tournament day "fishing a gravel point that was holding some decent spotted bass that were schooling in practice, but that didn't pan out. It seemed the bait was moving around making the fish scatter, so we moved to our primary pattern of fishing docks using a White Magdraft swimbait and an (unnamed) flipping jig. We got three solid bites in practice and figured if we stuck with it, we could get more on tournament day. We ended up catching 8 fish throughout the day." They collected a $12,500 pay day for their second-place finish.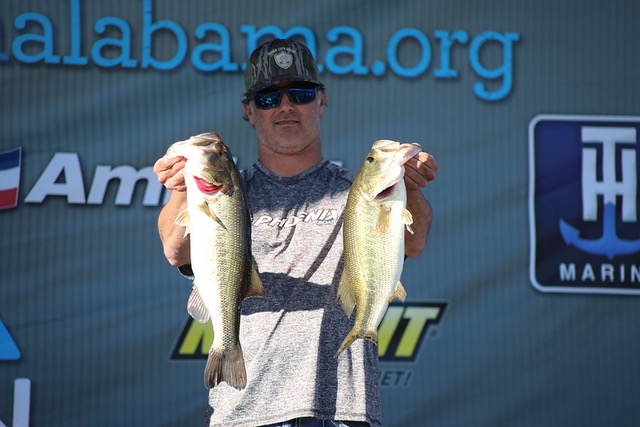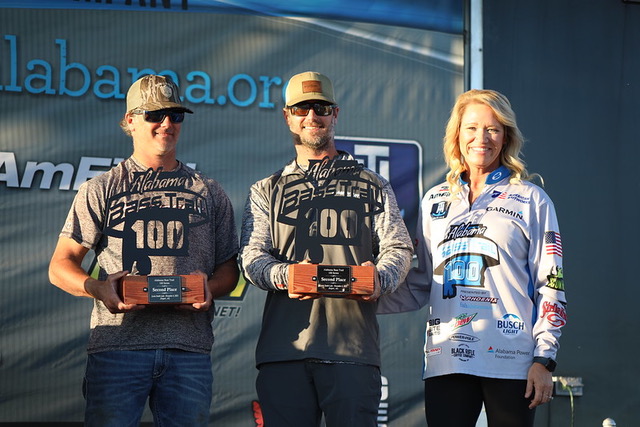 The third-place team of Trey and Leon Wade are also an Alabama River team finding success on Smith Lake. They spent two days in practice preparing for this event. "We were able to locate spotted bass using our live scope, but they were just not big enough. We caught a good largemouth in practice that helped clue us in to what we needed to do. We made the run up Ryan Creek to the back of a pocket and fished the docks where we located the largemouth in practice. We used a big swimbait that skips easily under the docks. When we got it back deep under the dock, we were able to catch fish. To let the dock fish rest, we made a run to another area that was not productive for us, so we came back to the docks and were able to catch a couple more. We ended up weighing in all largemouth totaling 14.93-pounds." They collected a $10,000 check for third place finish.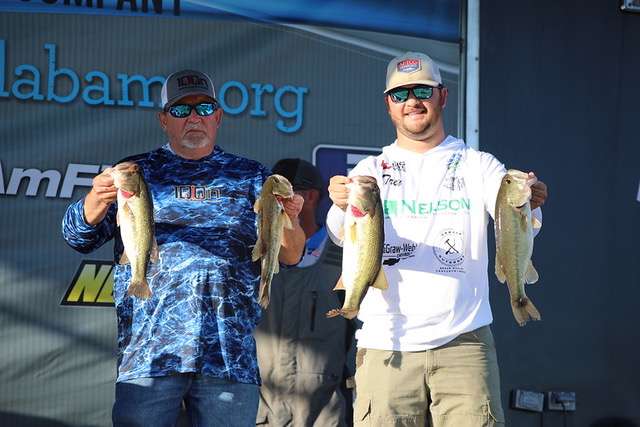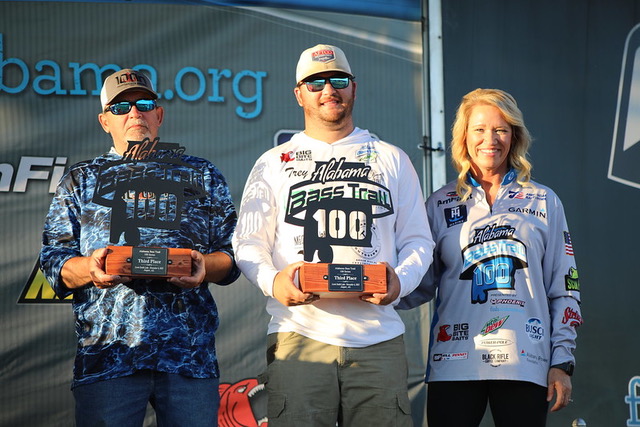 The Angler of the Year title was also awarded at this event. The team of Jonathan Collins and
Derek Hicks came into this event leading by only 1 point. Jonathan fished solo in this event because Derek had some family obligations. Jonathan still came with the hopes of holding onto their lead and winning the Championship belts. Jonathan started the day as boat number one at blast off, so he had his pick of the lake to start. He made a short run to an area where he located some schooling fish in practice. Those fish didn't produce, so he made a long run towards the Cullman Park area and quickly went to work targeting fish up shallow. "I tried my hardest all day to pick each area apart and keep my bait in the strike zone. I used a Skinny Dipper and an Extreme Lures Drop bait fishing mostly around docks. I fished hard till the very end and at 2:57 when I caught the last fish and quickly made my check in time of 3:00." He caught 10.66-pounds, enough to finish in 18th place, and collected enough points to earn the title of Angler of the Year in the ABT 100 against the best of the best team fishermen.
The top five standings are below for a complete list of standings please visit:
Download and listen to the ABT Podcast on your favorite Podcast app by searching for "Alabama Bass Trail Podcast." The Podcast is released each week on Tuesday.
The sponsors of the 2023 Alabama Bass Trail 100 include; Phoenix Bass Boats, Bill Penney Automotive Group, Banjio Sunglasses, Garmin, America's First Federal Credit Union, Sweet Home Alabama, Alabama Tourism Department, T-H Marine Supplies, Big Bite Bait Company, Black Rifle Coffee Company, Anheuser – Busch, Inc., fishalabama.org, Freedom Tackle Corp, Halo Fishing, NetBait, and Scum Frog