New Phoenix Boats/Alabama Bass Trail Pay Day Cash Bonus Announced for Anglers Competing in Alabama Bass Trail Tournaments in 2023
FOR IMMEDIATE RELEASE
CONTACT: Kay Donaldson, Program Director
PHONE: 256.350.3500 / 855.9FISHAL
EMAIL: kay@alabamabasstrail.org
New Phoenix Boats/Alabama Bass Trail Pay Day Cash Bonus Announced for Anglers Competing in Alabama Bass Trail Tournaments in 2023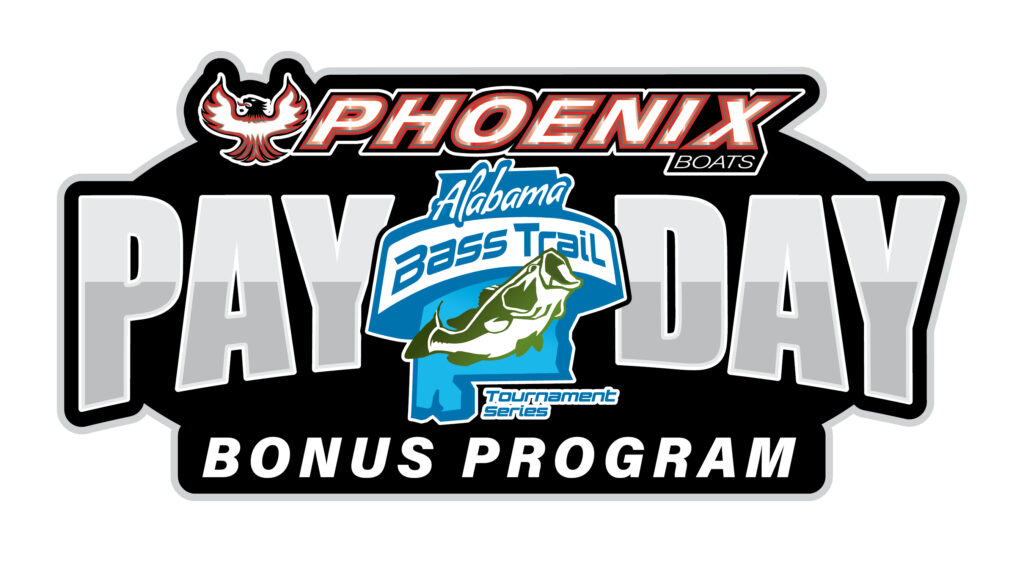 Decatur, Ala. (January 9, 2023) – The Alabama Bass Trail (ABT), the largest team trail tournament fishing organization in the Southeast, is excited to announce a new bonus program to the 2023 tournament schedule which gets underway January 21 on Lake Wedowee for the ABT 100 Series and February 11 on Lewis Smith for the ABT Tournament Series.
In 2023, Phoenix Boats will sponsor a $2,500 cash bonus called the Phoenix Boats Pay Day through the Alabama Bass Trail to the highest finishing angler in each tournament of the ABT Tournament Series and ABT 100 Series who fishes out of their original-owner Phoenix Boat. To qualify for the Phoenix Boats Pay Day, angler must:
Be the original owner and compete in their Phoenix Boat during the tournament all tournament days,
Be the highest finishing team inside the top 25 and there is not a Phoenix Boats' First Flight Winner
Have the Phoenix Boat registered with the Alabama Bass Trail staff prior to tournament date, entry forms will be available through the Alabama Bass Trail
Have a photo made on stage the day of the tournament with the Phoenix Boats Pay Day check.
Final decisions will be made by the Director of the Alabama Bass Trail
"What a great way to celebrate the tenth year of our relationship with Phoenix Boats," said ABT Program Director Kay Donaldson. "Phoenix Boats recognizes the loyalty that has been shown by ABT anglers and have graciously expanded their current bonus program to include a $2,500 highest finisher bonus. We love working with our partners to create opportunities to put more money in the pockets of our dedicated anglers and that is exactly what this will do."
The ABT Tournament Series will continue to be sanctioned as a Phoenix Boats First Flight Program Tier One tournament. Original owners who finish in first place in a Tier One Tournament will be paid First Flight Tournament Rewards. Tier One entitles the winner of an ABT event who is registered and qualifies for Phoenix First Flight to win up to $7,000. Winners are not eligible for the additional $2,500.
"Phoenix Boats prides itself on being the title sponsor of the Alabama Bass Trail Tournament Series since day one and we are thrilled to continue to grow with them. We recognize the loyalty the Alabama Bass Trail anglers have shown toward our brand and we want to thank them in a big way with this new bonus program that is tailored to them," says Teresa Johnson, Chief Operating Officer and Co-Founder of Phoenix Boats.
Headquartered in Winchester, Tenn., Phoenix Bass Boats was established in 2007. The headquarters are located in a modern 125,000 square foot facility on 10 acres and offer 14 models of boats ranging in size from 18 feet 6 inches to 21 feet 6 inches in length. For more information, visit www.phoenixbassboats.com.
For more information on the ABT and its tournaments, visit www.alabamabasstrail.org or call Donaldson at 855.9FISHAL.
About Alabama Bass Trail
The Alabama Bass Trail is a program of the Alabama Mountain Lakes Tourist Association. Its mission is to promote Alabama as a year-round fishing destination, to preserve natural resources for generations to come, and to educate high school and college-aged students to be good stewards of natural resources. The 13 bass fishing lakes consist of Lake Guntersville, Wheeler Lake, Pickwick Lake, Lewis Smith Lake, Neely Henry Lake, Weiss Lake, Lake Martin, Lay Lake, Logan Martin Lake, Lake Jordan, Alabama River, Lake Eufaula, and the Mobile-Tensaw River Delta. For more information, visit www.alabamabasstrail.org.
###