Pickwick Lake Feature Story
Alabama Bass Trail 100 Pickwick Preview with Mitch Mitchell and Austin
Weaver
By Jason Duran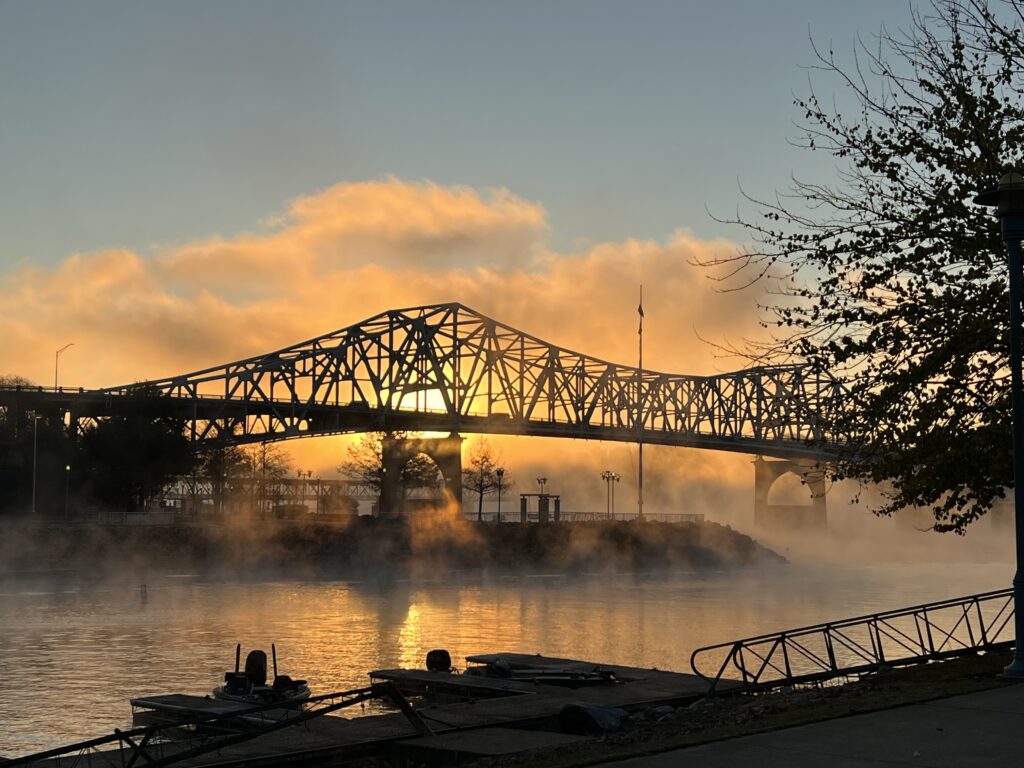 The final stop of the 2022 Alabama Bass Trail 100 Series will be held at
Pickwick Lake this weekend. The Top 100 Teams are all hoping to be the one
team to take home the $25,000 first place cash payout with a total payout for
the event of $100,000. The two previous events were held at Lake Jordan and
Neely Henry Lake. The overall Angler of the Year points race will be decided
after this event, and the two coveted Angler of the Year belts will be awarded.

The team of Mitch Mitchell and Austin Weaver marked this event on the
calendar when the schedule came out. They both have expansive knowledge
of the lake and the patterns for this time of year. "Typically, this time of year
the lake has been drawn down to winter pool. The seasonal rains usually help
provide a little current in the lake. Recently, however, there hasn't been any
current pulled. We are kind of hoping by the weekend they will want to
generate some electricity and pull some current. The generation schedule
shows they should, but it's just not enough or where we want it to be. Little
current and low water conditions make the fishing a tougher. These fish are
current driven, and with no current, they tend to scatter."

With nontypical conditions, this weekend's event sets an even playing field for
everyone in this event. Mitch shared, "when the lake isn't in the typical pattern,
it hurts the local fishermen. We usually can put together a pattern based on
our knowledge of the lake. When we see the current start to flow, we can
make our way to spots on the lake we know produce. But when the current
isn't flowing, it puts us at a disadvantage because all we can think about is
what the fish should be doing and why they aren't doing it. We have to
overcome the mental aspect of it all."
Austin said, "everyone knows the Tennessee River system is current driven.

This week Mitch and I have been sharing screen shots of the online
generation schedule to each other as we try to prepare. We use that schedule
even on tournament day. If the schedule says they are going to turn the generation on at 8:00, we start watching to see when they come on and make our move accordingly."
This weekend teams will be watching closely to see if the current does flow. If
not, teams can expect to be spread out all over the lake. Mitch feels like
"teams that are not regulars at Pickwick can really go out and fish their
strengths, find an area that looks good and start fishing. Fish can be found all
over the lake doing a mixture of things."

If the current does flow this weekend, teams can expect to catch them fishing
in the "current oriented places using swim baits and other moving baits like
chatterbaits and spinnerbaits. For Mitch and Austin, the ideal plan would be to
fish those areas to catch a decent limit of 15-pounds or so and then transition
to fishing for a largemouth in the grass and hopefully catch a 5-pounder or
two."

With or without the current, teams will need to cover lots of water to find active
fish. Mitch and Austin predict a winning weight of 18-20-pounds and 13-
pounds to get a check down to 25 th place. This weekend anglers will have an
opportunity not only to claim the $25,000 first place price, but also to hoist the
trophy high and add their names to the list of the best teams in bass fishing.

The Pre-Tournament briefing was held earlier this week on ABT Facebook. All
anglers should make sure they have checked text messages and emails for
the latest information prior to the event.

Tune in to the Alabama Bass Trail 100 Facebook page and the Alabama Bass
Trail 100 Website (www.alabamabasstrail100.org) for live on the water
coverage and live weigh in. All friends and family are welcome to attend this
event; bring lawn chairs. Blast off and weigh in will take place at McFarland
Park located at 200 James M. Spain Drive in Florence, AL.
Download and listen to the ABT Podcast on your favorite Podcast app by
searching for "Alabama Bass Trail Podcast." The Podcast is released each
week on Tuesday. 
The sponsors of the 2022 Alabama Bass Trail include: Phoenix Boats,
Academy Sports, Alabama Power, America's First Federal Credit Union,
American Trailer Rental Group, BAJIO, Berkley, Big Bite Baits, Bill Penney
Automotive, Black Rifle Coffee Company, Buck N' Bass, Anheuser – Bush,
Inc., E3 Sports Apparel, Fish Neely Henry Lake.com, Garmin, Jack's, Lew's,
Mountain Dew, Alabama Mountain Lakes Tourist Association, Power-Pole,
Strike King, Sweet Home Alabama, T-H Marine, Wedowee Marine, Yamaha,
Navionics and YETI Coolers.