2023 Alabama Bass Trail 100 Schedule Released
Alabama Bass Trail Announces 2023 ABT 100 Tournament Schedule and Payout
Priority Registration Opens June 1
Decatur, Ala. (March 4, 2022) – The Alabama Bass Trail (ABT) is pleased to unveil dates and locations of the 2023 ABT 100 tournament series which includes a payout reaching $300,000 for all three tournaments. Returning for the third season, the tournament series is held on three different lakes beginning January 21, 2023, attracting professional and amateur anglers from across the United States who will compete for a $25,000 first place prize.
"We are excited to announce the 2023 schedule for the Alabama Bass Trail 100. This tournament trail is quickly becoming as popular as our regular tournament series. In addition to two regular stops on the ABT, this year we are visiting a new body of water, Lake Wedowee. We are looking forward to introducing our anglers to this special place and working with the great people in Randolph County," said ABT Program Director Kay Donaldson.
The ABT 100 Series is open to professional and amateur anglers and features three tournaments. The maximum number of boats for each tournament is 100. Entry fee for each event is $1,000 and teams must fish in all three tournaments. (No single entries allowed.)
Tournament dates and locations for the 2023 Alabama Bass Trail 100 Series:
January 21, 2023 Lake Wedowee hosted by the Randolph County Chamber of Commerce
June 3, 2023 Millers Ferry hosted by the City of Camden, Ala.
November 4, 2023 Smith Lake hosted by the Chamber of Commerce of Walker County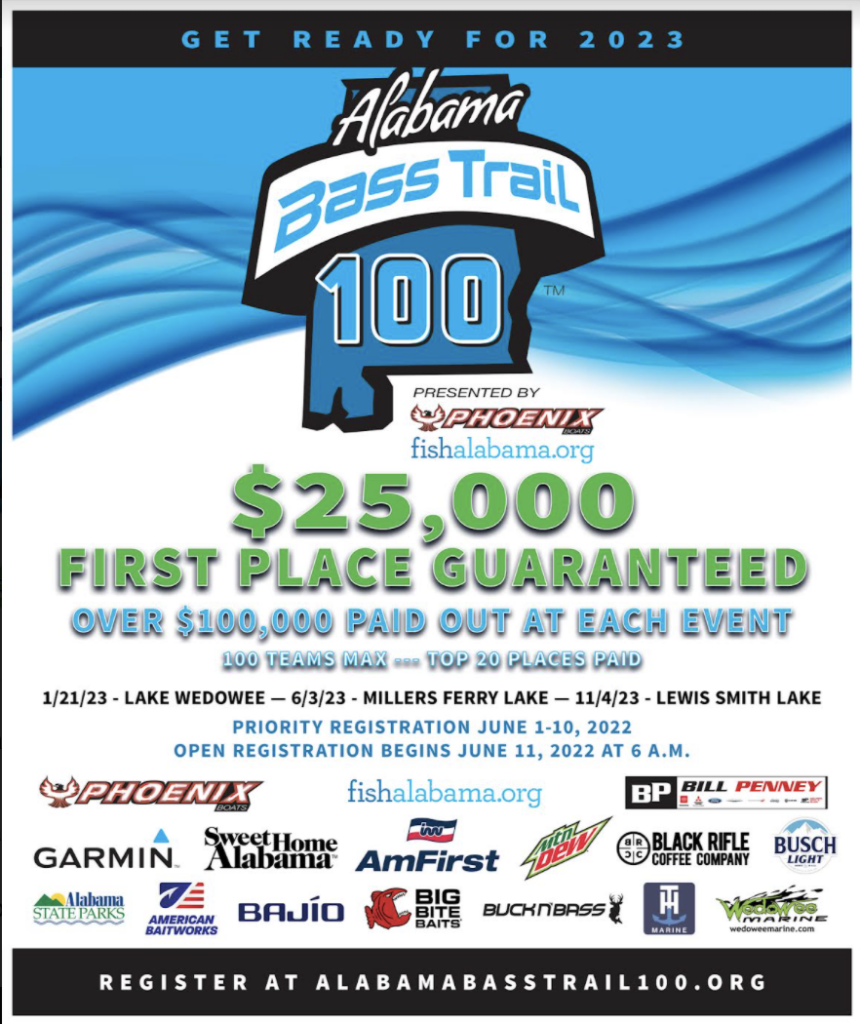 "The Randolph County Chamber of Commerce is excited to host one of the stops on the 2023 ABT 100 on Lake Wedowee and showcase one of Alabama's premier lakes. Lake Wedowee is a hidden gem that offers quality water and a sizeable bass population for year-round use by all ages. The economic impact from the tournament will generate new spending and tax revenue, including taxes on sales, restaurant purchases and lodging, for the local economy. Hosting a tournament of this magnitude will additionally promote tourism and create jobs for our citizens," said Dorothy Tidwell, executive director of the Randolph County Chamber of Commerce.
"The Chamber of Commerce of Walker County has led the way for more than a decade in recruiting tournaments such as the Alabama Bass Trail to our community, understanding the true meaning of tourism dollars. When coupled with the immeasurable media exposure that a community such as Walker County would otherwise not be able to obtain, the return on investment is even greater. Kay Donaldson does an outstanding job, and we look forward to the opportunity to host the Alabama Bass Trail and to work with her leadership team," said Chamber of Commerce of Walker County President Linda Lewis.
"On behalf of the City of Camden, we welcome the ABT 100 anglers and fans to our community and Millers Ferry Lake," said Camden Mayor Phil Creswell. "We've had the opportunity to work with the Alabama Bass Trail on four other occasions and we look forward to hosting the best anglers from across the country next summer. Millers Ferry offers excellent fishing opportunities year round and we invite tournament anglers to visit early and often."
Each tournament features a $25,000 guaranteed first place prize and pays 20 places plus a $1,000 big fish totaling $100,000.
Payout Schedule:
First place $25,000
Second place $12,500
Third place $10,000
Fourth place $ 9,000
Fifth place $ 7,500
Sixth place $ 6,000
Seventh place $ 5,000
Eighth place $ 4,000
Ninth place $ 3,000
Tenth place $ 2,000
11th – 20th $ 1,500 each
Big Fish $ 1,000
The ABT 100 Series will be televised on Bally Sports Southeast later in 2023. The weigh-in and Live Leaderboard will be streamed live on www.AlabamaBassTrail100.org and on Facebook at Alabama Bass Trail 100 Series.
The entry fee is $3,000 per team. Each team may choose to pay a $1500 nonrefundable deposit to hold the team's spot. The balance of $1500 must be paid by December 1, 2022. Registration is limited to 100 boats and teams that fished the ABT 100 in 2022 will receive priority registration beginning June 1 until June 10, 2022, at www.AlabamaBassTrail100.org. Registration opens for new teams on June 11, 2022, at 6:00 a.m.
The Alabama Bass Trail 100 Series made its debut in January 2021 with professional and amateur anglers from 13 different states competing. According to Donaldson, anglers are traveling from 12 different states to compete in the 2022 ABT 100 Series.
ABT 100 Series sponsors include Alabama State Parks, Bajio Sunglasses, Big Bite Baits, Black Rifle Coffee Company, Buck N' Bass, Busch Light, Freedom Tackle Corporation, Phoenix Bass Boats, FishAlabama.org, Halo Fishing, Bill Penney Automotive, America's First Federal Credit Union, Alabama Tourism Department, NetBait, Scum Frog, T-H Marine Supplies, Inc., Wedowee Marine and Garmin.
For more information, call Donaldson at 855.934.7425 or visit online at www.AlabamaBassTrail100.org, on Facebook at Alabama Bass Trail 100 Series and on Instagram at albasstrail100.
About Alabama Bass Trail
The Alabama Bass Trail is a program of the Alabama Mountain Lakes Tourist Association. Its mission is to promote Alabama as a year-round fishing destination, to preserve natural resources for generations to come, and to educate high school and college-aged students to be good stewards of natural resources. The 13 bass fishing lakes consist of Lake Guntersville, Wheeler Lake, Pickwick Lake, Lewis Smith Lake, Neely Henry Lake, Weiss Lake, Lake Martin, Lay Lake, Logan Martin Lake, Lake Jordan, Alabama River, Lake Eufaula, and the Mobile-Tensaw River Delta. For more information, visit www.alabamabasstrail.org.
###