The Alabama Bass Trail 100 Announces Their 2024 Tournament Schedule
Priority Registration Opens June 1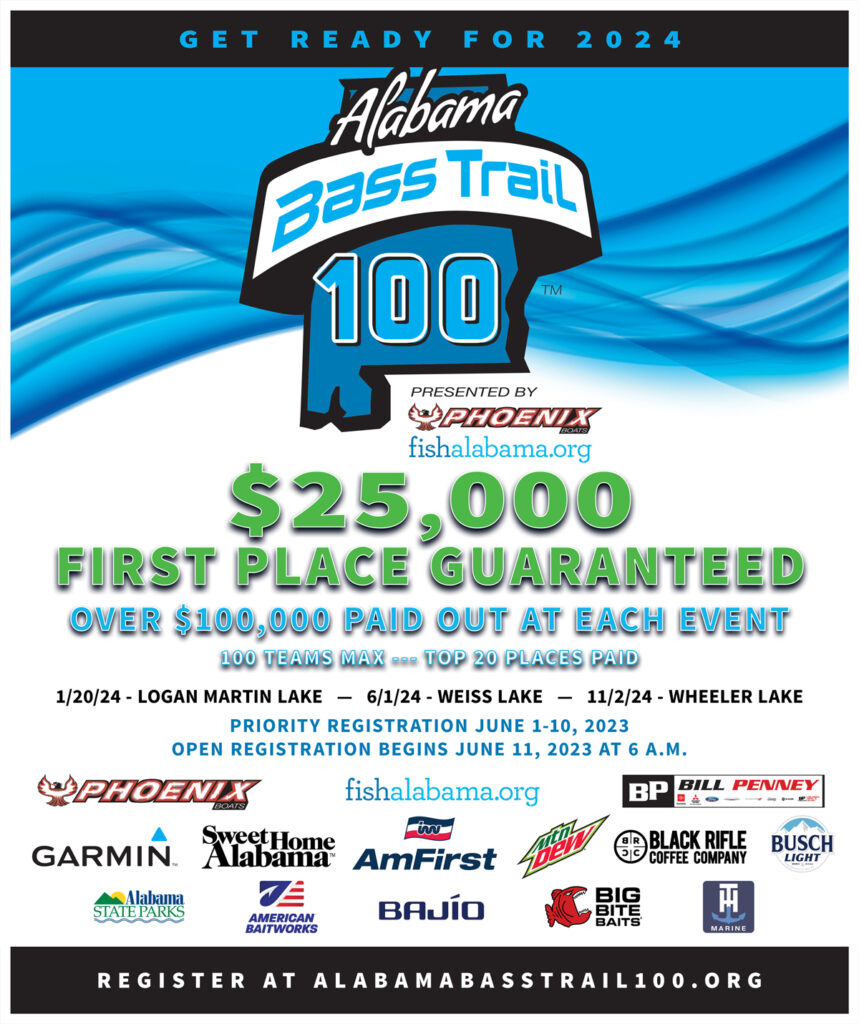 Decatur, Ala. (March 10, 2023) – The Alabama Bass Trail (ABT) announces dates and locations of the 2024 ABT 100 tournament series which includes a payout reaching $300,000 for all three tournaments. Returning for the fourth season, the tournament series is held on three different lakes beginning January 20, 2024, attracting professional and amateur anglers from across the United States who will compete for a $25,000 first place prize.
"On behalf of the Alabama Bass Trail Board of Directors, I am excited to announce the schedule for the fourth season of the Alabama Bass Trail 100. This year's schedule offers anglers the opportunity to test their talents against spotted bass, largemouth and smallmouth bass on both the Coosa River and the Tennessee River," said ABT Program Director Kay Donaldson.
The ABT 100 Series is open to professional and amateur anglers and features three tournaments. The maximum number of boats for each tournament is 100. Entry fee for each event is $1,000 and teams must fish in all three tournaments. (No single entries allowed.)
Tournament dates and locations for the 2024 Alabama Bass Trail 100 Series:
January 20, 2024 Logan Martin Lake hosted by the City of Lincoln
June 1, 2024 Weiss Lake hosted by the City of Leesburg
November 2, 2024 Wheeler hosted by Decatur-Morgan County Tourism
"The Alabama Bass Trail is committed to providing a quality bass fishing tournament trail that provides a one hundred percent payback to our anglers, encourages economic growth in the host communities and promotes outdoor recreation throughout the great state of Alabama," added Donaldson.
Each tournament features a $25,000 guaranteed first place prize and pays 20 places plus a $1,000 big fish totaling $100,000.
Payout Schedule:
First place $25,000
Second place $12,500
Third place $10,000
Fourth place $ 9,000
Fifth place $ 7,500
Sixth place $ 6,000
Seventh place $ 5,000
Eighth place $ 4,000
Ninth place $ 3,000
Tenth place $ 2,000
11th – 20th $ 1,500 each
Big Fish $ 1,000
The ABT 100 Series will bring four hours of live tournament action to viewers directly from the boats competing in the events and also will be televised later in 2024. The weigh-in and Live Leaderboard for each event will be streamed live on www.AlabamaBassTrail100.org and on Facebook at Alabama Bass Trail 100 Series.
The entry fee is $3,000 per team. Each team may choose to pay a $1500 nonrefundable deposit to hold the team's spot. The balance of $1500 must be paid by December 1, 2023. Registration is limited to 100 boats and teams that fished the ABT 100 in 2023 will receive priority registration beginning June 1 until June 10, 2023, at www.AlabamaBassTrail100.org. Registration opens for new teams on June 11, 2023, at 6:00 a.m.
The Alabama Bass Trail 100 Series made its debut in January 2021 with professional and amateur anglers from 13 different states competing. According to Donaldson, anglers are traveling from 12 different states to compete in the 2023 ABT 100 Series.
ABT 100 Series sponsors include Alabama State Parks, Bajio Sunglasses, Big Bite Baits, Black Rifle Coffee Company, Busch Light, Freedom Tackle Corporation, Phoenix Bass Boats, FishAlabama.org, Halo Fishing, Bill Penney Automotive, America's First Federal Credit Union, Alabama Tourism Department, NetBait, Scum Frog, T-H Marine Supplies, Inc., American Baitworks and Garmin.
For more information, call Donaldson at 855.934.7425 or visit online at www.AlabamaBassTrail100.org, on Facebook at Alabama Bass Trail 100 Series and on Instagram at albasstrail100.
About Alabama Bass Trail
The Alabama Bass Trail is a program of the Alabama Mountain Lakes Tourist Association. Its mission is to promote Alabama as a year-round fishing destination, to preserve natural resources for generations to come, and to educate high school and college-aged students to be good stewards of natural resources. The 13 bass fishing lakes consist of Lake Guntersville, Wheeler Lake, Pickwick Lake, Lewis Smith Lake, Neely Henry Lake, Weiss Lake, Lake Martin, Lay Lake, Logan Martin Lake, Lake Jordan, Alabama River, Lake Eufaula, and the Mobile-Tensaw River Delta. For more information, visit www.alabamabasstrail.org.
###