Alabama Bass Trail Expands in 2021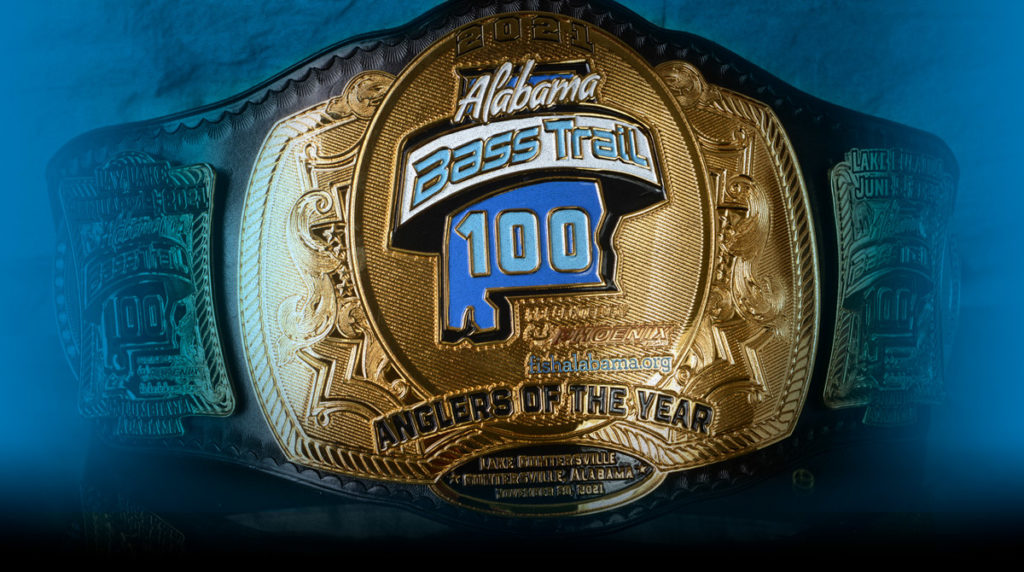 Decatur, Ala. (January 9, 2020) – The Alabama Bass Trail (ABT) held a news conference today to unveil a new addition to its tackle box. The Alabama Bass Trail 100 Series will make its debut in January 2021 and will be held on three of the Alabama Bass Trail lakes. Attracting professional and amateur anglers from across the United States, the new three-tournament series features a $25,000 first place prize and pays 20 places totaling $100,000.
The ABT 100 Series is open to professional and amateur anglers and features three tournaments. The maximum number of boats for each tournament is 100. Entry fee for each event is $1,000 and teams must fish in all three tournaments. (No single entries allowed.)
"The Alabama Bass Trail is excited to introduce this new series. Our team has worked tirelessly to put together another team trail that checks off many of the boxes on our anglers' wish list. Hopefully, this new trail satisfies some of the cravings anglers have expressed to us while fulfilling the desires our sponsors have to continue to grow the sport of bass fishing," said ABT Program Director Kay Donaldson.
---
2021 Tournament Dates & Locations:
January 9, 2021
Lay Lake
Hosted by Shelby County Commission

June 5, 2021
Lake Eufaula
Hosted by Eufaula-Barbour Chamber of Commerce

November 20, 2021
Lake Guntersville
Hosted by Marshall County Convention & Visitors Bureau
"Lake Guntersville is honored to be chosen as one of three sites for the ABT 100 Series. Recently named the #2 bass lake in America, Lake Guntersville is a challenging and exciting fishery for anglers of all levels. Competitive fishing is what we do best, and we are pleased to play host to this new tournament series," said Katy Norton, president of the Marshall County Convention and Visitors Bureau.
Each tournament features a $25,000 guaranteed first place prize and pays 20 places plus a $1,000 big fish, totaling $100,000.
Payout Schedule:
1. $25,000
2. $12,500
3. $10,000
4. $9,000
5. $7,500
6. $6,000
7. $5,000
8. $4,000
9. $3,000
10. $2,000
11-20. $1,500 each
Big Fish: $1,000
The ABT 100 Series will be televised on Fox Sports Southeast later in 2021. The weigh-in and Live Leaderboard will be streamed live on AlabamaBassTrail100.org and on Facebook.com/albasstrail100.
The entry fee for each event is $1,000 per team. Each team may choose to pay a $1,500 nonrefundable deposit to hold the team's spot. The balance of $1,500 must be paid by December 1, 2020. Registration is limited to 100 boats and will open to the public on June 1, 2020, at AlabamBassTrail100.org.
"The Alabama Bass Trail 100 Series provides another opportunity to attract anglers to our state in hopes they leave a little bit of tourism dollars in these communities," added Donaldson. "In recent years, the Alabama Bass Trail has generated an economic impact that eclipses $3 million annually. We look forward to seeing that number climb with the addition of the 100 Series."
ABT 100 Series sponsors include Phoenix Bass Boats; FishAlabama.org; Bill Penney Toyota; America's First Federal Credit Union; American Baitworks; T-H Marine Supplies, Inc.; Wedowee Marine; and Garmin.
For more information, call Donaldson at 1-855-934-7425 or visit online at AlabamaBassTrail100.org, on Facebook.com/albasstrail100 and on Instagram.com/albasstrail100.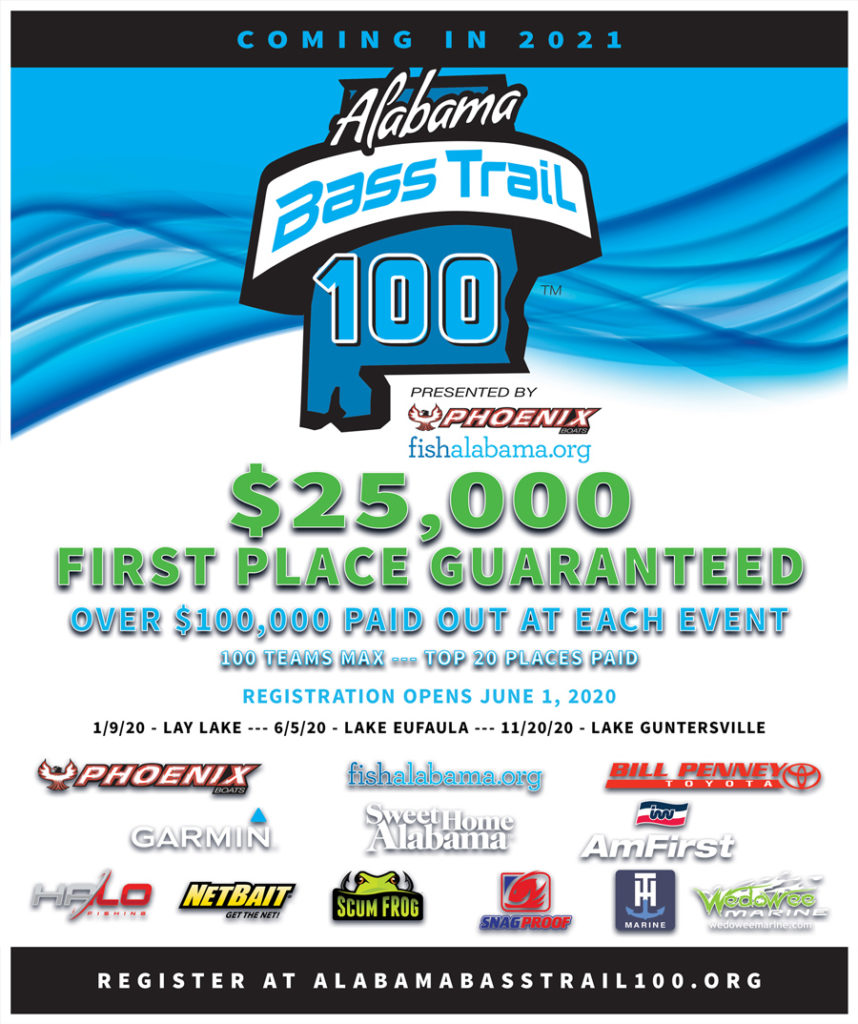 ---
About Alabama Bass Trail
The Alabama Bass Trail is a program of the Alabama Mountain Lakes Tourist Association. Its mission is to promote Alabama as a year-round fishing destination, to preserve natural resources for generations to come, and to educate high school and college-aged students to be good stewards of natural resources. The 13 bass fishing lakes consist of Lake Guntersville, Wheeler Lake, Pickwick Lake, Lewis Smith Lake, Neely Henry Lake, Weiss Lake, Lake Martin, Lay Lake, Logan Martin Lake, Lake Jordan, Alabama River, Lake Eufaula, and the Mobile-Tensaw River Delta. For more information, visit AlabamaBassTrail.org.