Ken Walters and Dallas Weldon take the win on Lake Jordan with 19.64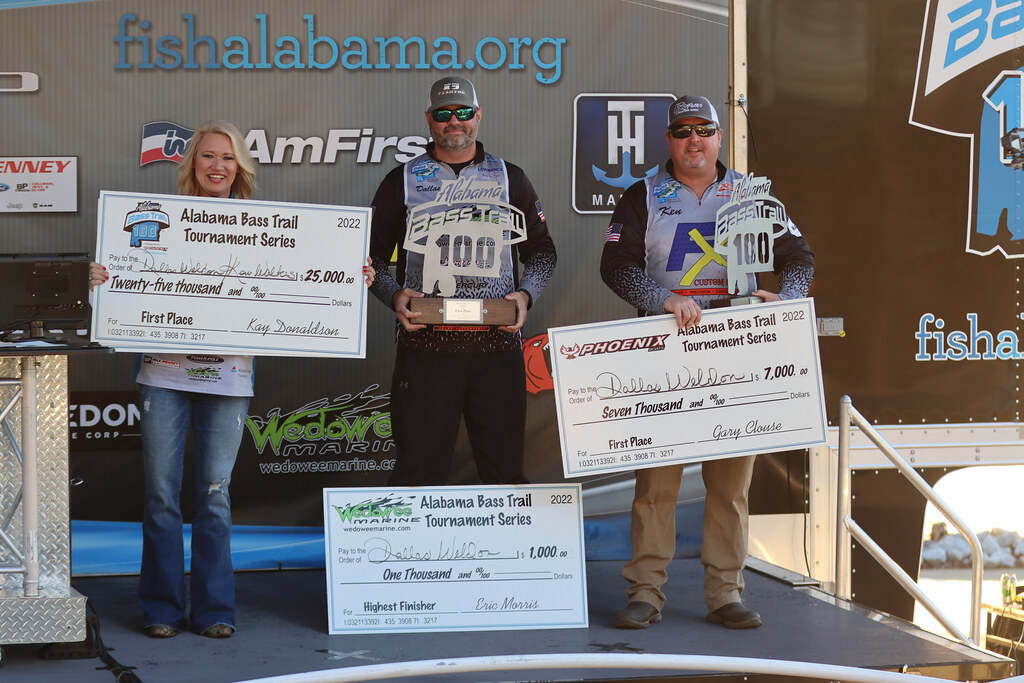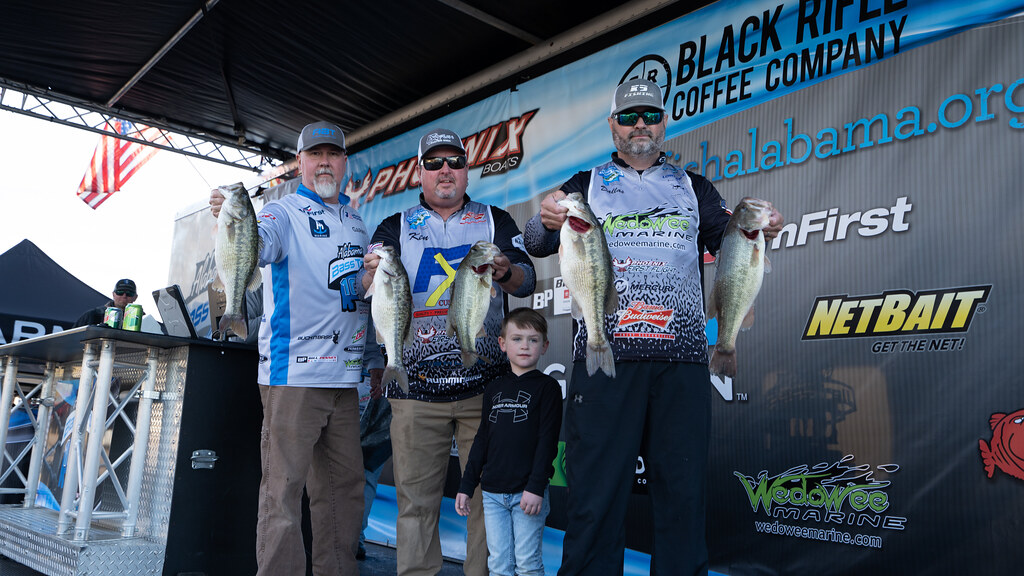 Wetumpka Ala, January 9 -The Alabama Bass Trail 100 Series started the 2022 season in Wetumpka, AL on Lake Jordan. Lake Jordan is a 6,800-acre lake on the Coosa River. 100 of the best teams spent the day targeting largemouth and spotted bass inside the 188 miles of shoreline Lake Jordan provides.  The team of Ken Walers and Dallas Weldon caught 19.64 pounds for the win and a $33,250 in winnings and bonuses.
In the inaugural season of the ABT 100 Ken and Dallas were at the top of the leader board in all three events with a 15th place finish at Lay Lake and 2nd place finishes at both Lake Eufaula and Lake Guntersville. They also finished second in AOY points for the 2021 Season making them one of the teams to watch this year. They brought experience and knowledge with them to give them an advantage. Dallas shared, "this lake is full of threadfin shad, so when it is cold and there is current, bass don't like to go too far to feed. They like to set up on little depressions or areas where the current would flow over them. We spent Friday using our electronics to scan and find these places. We were looking for the depressions that also had the fish on them. We found about three or four of these spots after spending the day looking for them."
On tournament day the plan was to fish those spots to see what they would produce. They started on the first marked spot where they caught about 30 fish and had a limit of about 10 pounds before 9:30. Their primary bait for this spot was a Strike King Rage Swimmer in Sexy Shad color. They didn't get a bite for about 20 minutes, so Dallas suggested they move to the second spot looking for a 3-pounder that would help upgrade their weight some.
They made the move to their second location in search of that 3-pound bite, and when they idled by the spot, they saw a ball of fish on the electronics. They marked the fish, set up on the spot, picked up a ¾ oz Strike King Red Eye Shad, made a couple of casts and caught much bigger fish cast after cast. They quickly upgraded that 10-pound limit to the 19.64 pounds they weighed in. The bite window was really short on both of the spots they fished. Ken said, "the key for them was making long casts to the spot, letting the bait sink down to the bottom and then work it back slow." With this win they are in first place in AOY points and have gotten over the hump of all those second-place finishes.
Clent Davis and Lance Poe claimed second place and $12,500. Clent and Lance "spent their day targeting fish on ledges and drop-offs in the 10–12-feet range with a key bait of a homemade swimbait in shad color." Lance said, "after a tough practice earlier in the week, we found one area that was productive for us." They described this area as a 200-yard stretch on the main river with a few key spots where rocks would provide breaks in the current. The fish were setting up in this area based on the current and the bait fish. Lance said, "we only caught 6-7 fish all day and after 10:00 the bite just seemed to go away possibly due to the wind and the boat pressure. We weighed in 4 spotted bass and 1 largemouth" for a total of 17.37-pounds.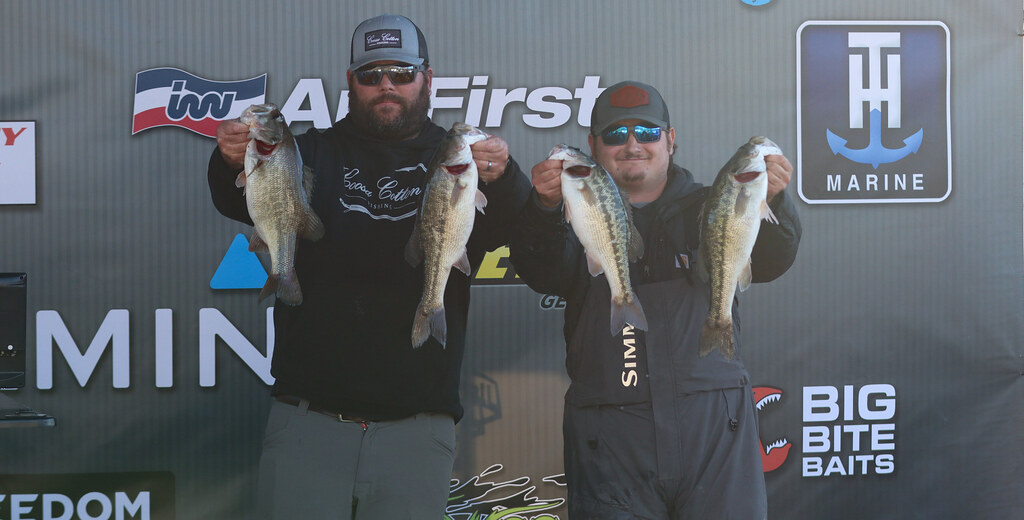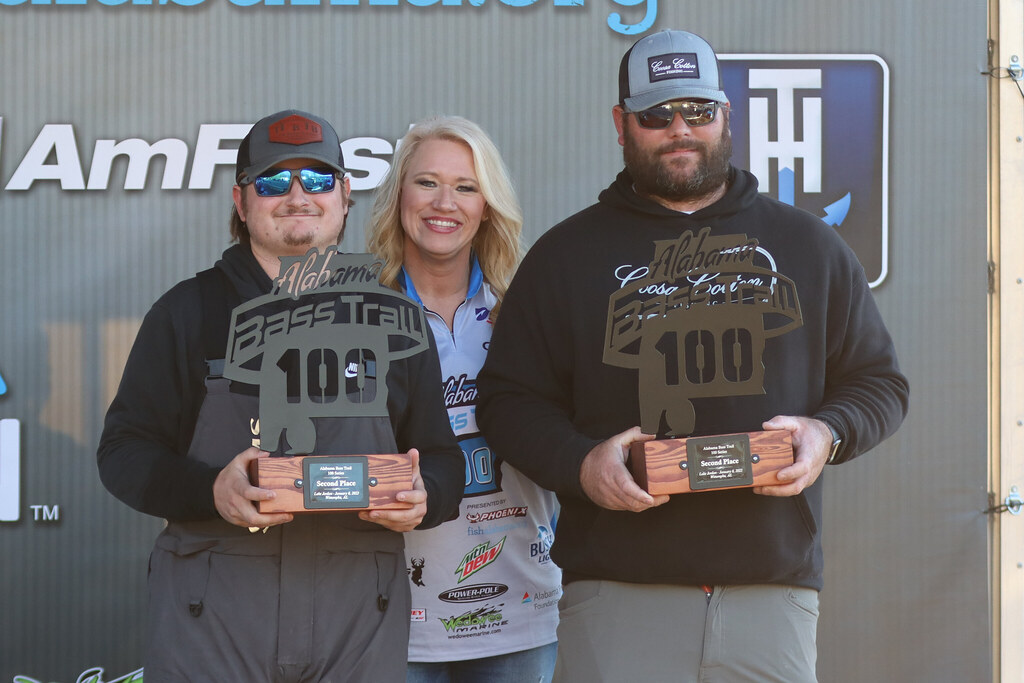 The team of Brian Adamson and Ryan Lloyd said, "$11,000 isn't so bad for 3rd place, and we're ecstatic to pull it out on a tough day like this." They had a good practice and believed they had a really good largemouth pattern that was working for them. They headed upriver to see if practice proved to be true on tournament day. However, they found a much different pattern. According to Ryan, the largemouth were really biting good in practice, but when they figured out the largemouth weren't going to cooperate, they made the move back down to "target areas on the main lake." They used a 1.5 oz Jack Hammer Chatterbait casting it out and yo-yoing it back to the boat slowly. They caught 1 largemouth and 4 spots for a total of 15.93 with a big fish of 5.86. From what they found in practice, Ryan predicted they would have caught an all-largemouth bag, but he was thankful it worked out."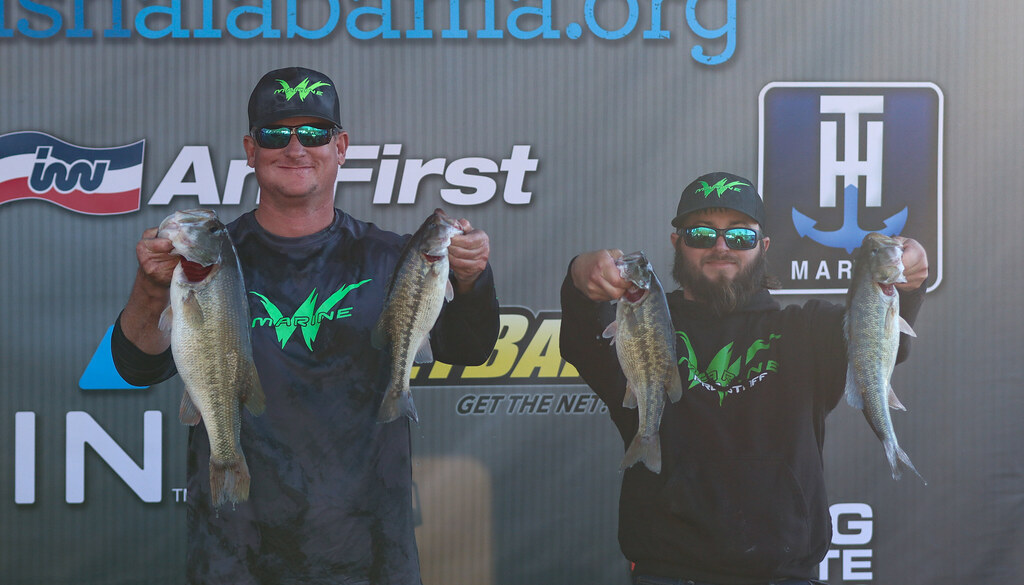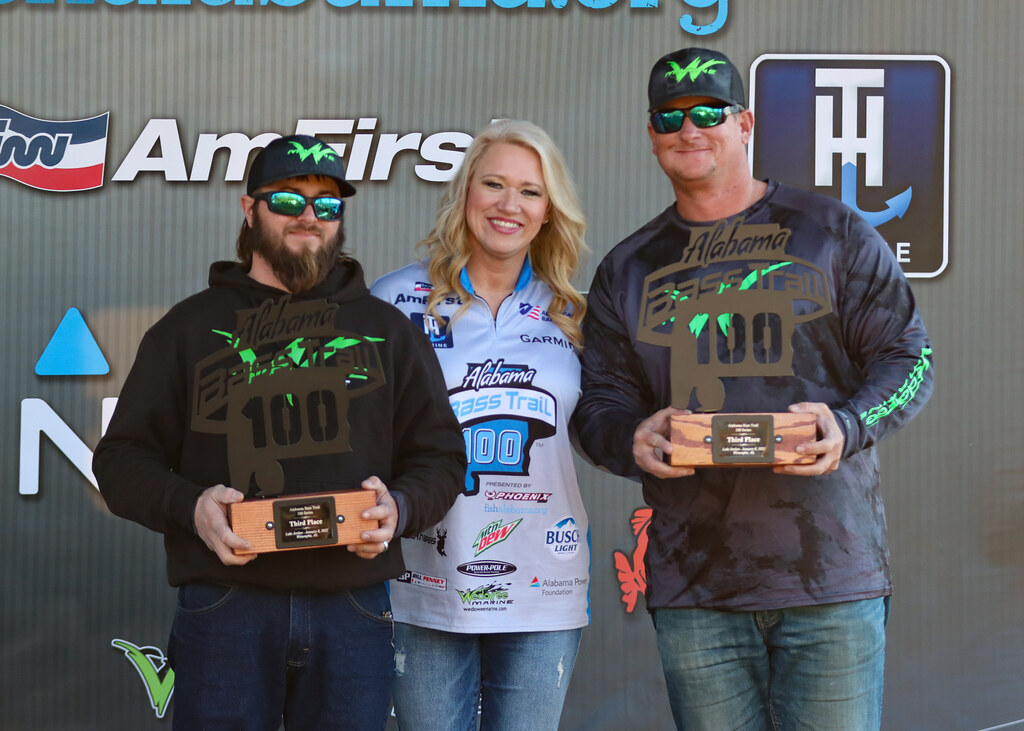 The top five standings are below for a complete list of standings please visit: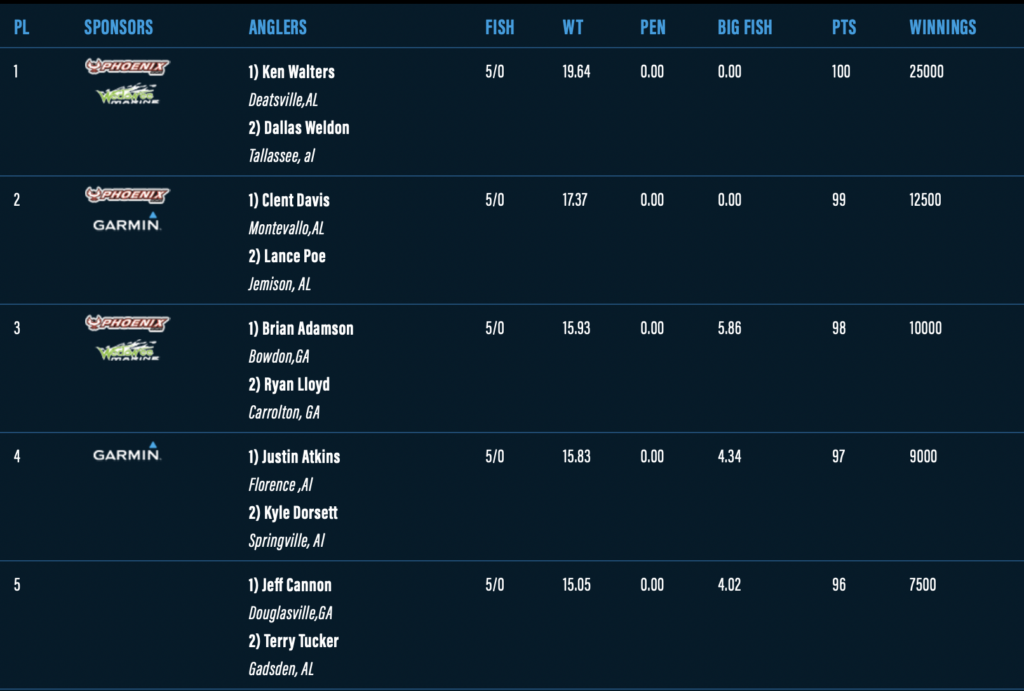 Download and listen to the ABT Podcast on your favorite Podcast app by searching for "Alabama Bass Trail Podcast." The Podcast is released each week on Tuesday.
The sponsors of the 2022 Alabama Bass Trail 100 include; Phoenix Bass Boats, Bill Penney Automotive Group, Bajio Sunglasses, Garmin, America's First Federal Credit Union, Sweet Home Alabama, Alabama Tourism Department, Buck n' Bass, TH Marine Supplies, Wedowee Marine, Big Bite Bait Company, Black Rifle Coffee Company,  Anheuser – Busch, Inc., fishalabama.org, and American Baitworks, Lew's Fishing and Strike King.