Lake Guntersville Recap Story
Hatfield and Leary Win Back to Back ABT 100 Events
By Jason Duran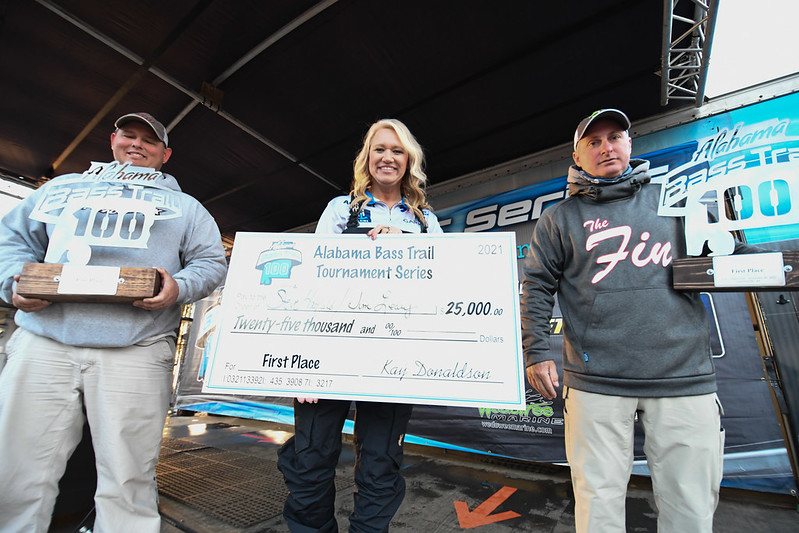 The Alabama Bass Trail 100 Series completed its inaugural season at Lake Guntersville with one hundred teams competing for $100,000 total purse and a first-place cash prize of $25,000. Teams were also competing for bragging rights and the two Angler of the Year heavy weight belts for the team with the most AOY points.
The team of Steve Hatfield and Jim Leary came into this event leading in AOY points. With their win in the previous event at Lake Eufaula and a top ten finish at the first event at Lay Lake, they were the team to beat. Jim and Steve were one of the team favorites in this event because Jim has logged lots of hours guiding on the lake and has a good knowledge of the patterns for this time of year. They started their morning on a spot that didn't produce as they had hoped and soon moved to their second spot that was occupied by another angler.
They then moved to a third location just outside Roseberry Creek where Jim found fish in practice on Monday. Using his Lowrance Live Sight he saw there were lots of fish schooled up in this area. "This area was loaded with bait fish from the mouth of the creek all the way back. The spot serves as a travel lane for bass looking to feed up for the winter." A key for them was this area had eelgrass just off the main river and a creek channel feeding back into Roseberry. "At times it seemed that current was causing an eddy to form and bass would set up to feed in that area." When they arrived at this spot mid-morning, they found the bass ready to bite.
They targeted these fish using a swim bait and made long casts parallel along the grass edge and slowly reel it back to the boat. Jim shared, "using my electronics, I learned this week how to make the bass bite. I have fished this area many times in the past and would retrieve the bait too fast, but this week I learned that they wanted the retrieve a lot slower." On this spot alone they culled out the previous fish they had caught and added to their bag a couple of fish in the over 5-pound range. Mid-morning, they had a limit of over 25 pounds and continued to work the area targeting the larger fish using the same swim bait.
"The owner of Big G tackle made some special colors of swim baits for us to use for this event. They were in 4 inch and 6 inch sizes, and we used them to target fish in 4-8 feet of water. We teamed it up with a ½ OZ swimbait head and really used the electronics to watch how they reacted to the bait."
When they left this area in the afternoon, they tried a couple more areas unsuccessfully and were unable to provide any upgrades to their bag. Just before weigh-in they stopped at a spot and caught another solid fish culling up to the 27.35 pounds of Lake Guntersville bass. At weigh-in time they crossed the scales as one of the first few teams claiming the lead early and holding on to the end of the day. For the second time this year they collected a $25,000 check, held on to their lead as AOY and hoisted the highly coveted heavy-weight belts. With over $50,000 in winnings and bonuses they have had a very successful year on the ABT 100.
The second-place team of Ken Walters and Dallas Weldon also entered this event in the hunt for AOY with a top 15 finish at Lay Lake and a second-place finish at Lake Eufaula. During the first day of practice Ken said he caught fish in practice on the way they had planned on catching them. After practice however, they decided they didn't just come to this event to do well but to win. They were only 6 points out of the AOY race, and they wanted to win and decided to abandon this area for better options.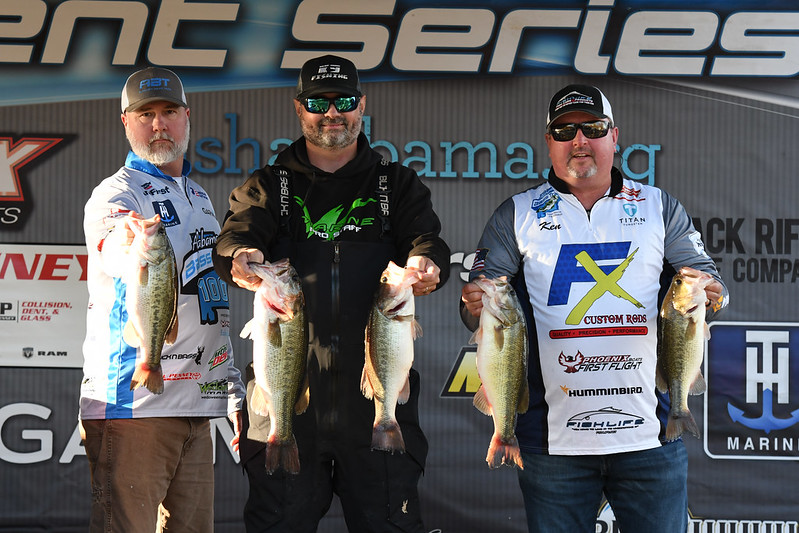 Dallas caught a six pounder and a four pounder in practice on Wednesday, so they decided to go to his area on tournament day. The area was located on the lower end of the lake, and they targeted fish using shad colored swim baits made by True Bass and Scottsboro Tackle Company in 10 -15 feet of water. They were fishing for suspended fish not worried about the change in weather because Dallas "felt the change in weather would make more of them suspend."
The key for them was using electronics to target these suspended fish and catch them. "We did all we could in this event but at the end of the day, we came up just a few points shy of the AOY. If it wasn't for the first-place team winning this event, we would have won AOY." They crossed the scales with 22.47 pounds including a 5.97-pound big fish. This was enough earning them a $12,500 payday.
Third place went to the team of Brent Crow and Derek Remitz with a total of 19.77 pounds. The team has been fishing Lake Guntersville a long time and both have very successful guiding businesses. Brent recently won the Toyota Championship on Pickwick claiming $235,000. They both shared, "things are either going your way or they aren't, and recently they have been going our way."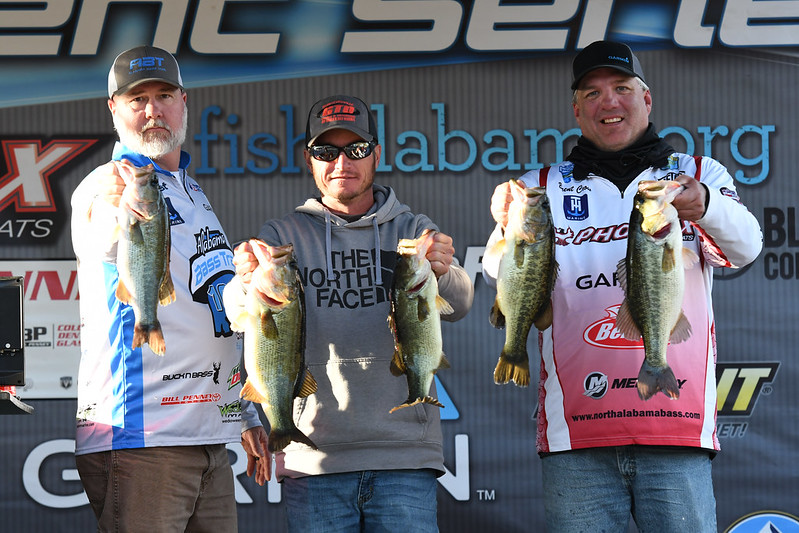 The key for them in this event came down to good decision making. Derek had found a grass mat in practice that he felt was going to produce the fish they needed. However, with all the rain and lake changes, that grass mat disappeared. Though the mat disappeared, they knew the fish didn't, so it was just a matter of making a key decision and adjusting to find them. They quickly learned that because the mat was gone they weren't going to be able to catch them flipping, like they had hoped. Making the adjustment to using a swimbait and a top water they learned they the fish were still there. The first cast they made using a walking style bait resulted in a keeper. 32 casts later Brent decided to make a change to the Skinny Dipper Swimbait and started catching a few here and there.
They lost a couple fish early in the area and thought that was going to hurt them. They spent most of the day in this area "having to talk each other into staying in the area several times." Derek said at this level it "really is about making good decisions." They decided to go back to where they lost the fish earlier and when they pulled up, they caught two fish- one over four pounds. Within an hour they culled everything from the morning.
"On our way back to weigh-in we had a few minutes left and made another key decision. I told Brent to go try an area just across the lake from blast off, and he agreed. We pulled up on the location, and in just a few casts, he caught a 4-pound fish." That upgrade gave them 19.77 pounds securing a $10,000 payday including a bonus from Garmin.
The top five standings are below for a complete list of standings please visit: https://www.alabamabasstrail100.org/lake-guntersville-results/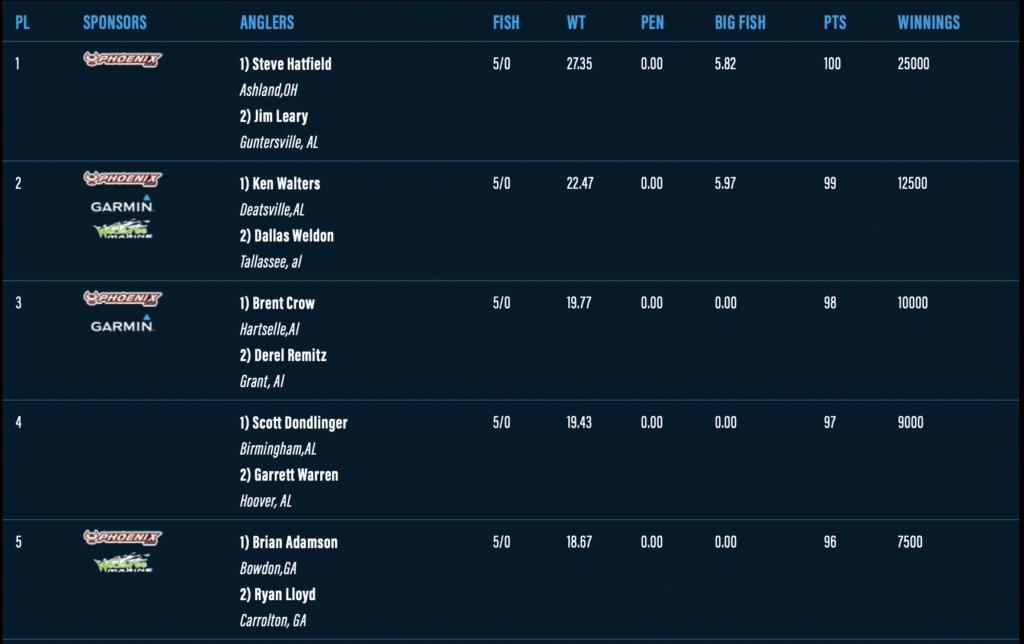 Download and listen to the ABT Podcast on your favorite Podcast app by searching for "Alabama Bass Trail Podcast." The Podcast is released each week on Tuesday.
The sponsors of the 2021 Alabama Bass Trail 100 include; Phoenix Bass Boats, Bill Penney Automotive Group, Garmin, America's First Federal Credit Union, Sweet Home Alabama, Alabama Tourism Department, T-H Marine Supplies, Wedowee Marine, Big Bite Bait Company, Black Rifle Coffee Company, Anheuser – Busch, Inc., fishalabama.org, and American Baitworks.